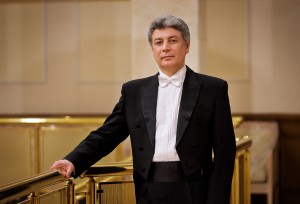 Askerov Mirza-Aga Saftarovich, born in 1959, honored cultural worker of the Russian Federation, honored worked of the All-Russian Musical Society, candidate of pedagogical sciences.
In 1978 graduated from the faculty of choir conducting of the musical college in Derbent ( Dagestan) and in 1983 – the Astrahan State Conservatory, majoring in choir conducting and teaching choir disciplines. After graduation taught at the Republican Musical College of Derbent. In 1984 created a chamber choir which won prizes at city and republican festivals.
In 1986 worked as a teacher and then as the senior teacher of the of chair of choir conducting of the Moscow State Cultural Institute ( now – the Moscow State University of Fine Arts). In 1993 finished his thesis and received the candidate degree.
Since 1990 has been working with the Academic Choir of Moscow State University on the recommendation of professor V.V. Baranov, the honored cultural worker of the Russian Federation.
The Choir under Mirza Askerov has taken part in many festivals and competitions and has been rewarded by numerous prizes. The Choir took part many times in concerts of spiritual music in the Christmas festivals "Orthodox Russia", in events dedicated to the 700th anniversary of the assumption of the grand prince Daniil of Moscow, in the celebration of the Day of Moscow. Moreover, the Choir performs in annual concerts and is a constant participant of all University events. The successful and intensive activities of the Choir attract the attention of the most prestigious concert halls of Moscow. The Choir directed by Mirza Askerov has performed in the Column Hall of the House of Unions, in the Grand and Rakhmaninov Hall of the Moscow Conservatory, in the Chaikovsky Music Hall, the Hall of the Gnesin Academy, the Moscow International Music Hall, the Concert Hall of the Lebedev Institute of Physics , the Kremlin Palace of Congress the Church Cathedral Halls of the Cathedral of Christ the Savior the Residence of the Russian Patriarch of the Moscow Daniil Monastery, the Grand Hall of the Central House of Scientists of the Russian Academy of Science, the Pushkin Museum of Fine Arts.
Together with active choir work Mirza Askerov continues his teaching activities.
Being an outstanding and spirited musician, an expert in the choir and vocal spheres, having mastered the piano and some folk instruments, popular among young people and colleagues by profession, Mirza-Aga Saftarovich Askerov has been frequently invited to judge musical competitions and give master-classes. His master-classes took place during the festival "Glory of Culture" (Holland, 2005). Mirza Askerov was chairman of jury of the "Crystal Lyre" competition in Gus-Khrustalny in 2007 and of the International Festival "Chorus Inside 2008" (Moscow, 2008) and also was in the jury of the "Moscow – the city of the world" festival (Moscow, 2007).